Business-to-business players have been hesitant to embrace the benefits of B2B ecommerce, believing that their customers would never abandon the personal touch of traditional sales methods. However, Forrester's most recent study reveals that 74% of B2B buyers currently research "at least 50% of their work-related purchases on the internet." This once again proves that your customers are ready for your online presence. The question is — are you?
In this article, we'll explore how a B2C-inspired approach can make your B2B company an outperformer in gaining the loyalty of current clients and attracting new ones.
Find your growth equation with these 12 B2B ecommerce benefits
According to McKinsey, more than 30% of B2B customers prefer a digital self-service channel throughout various stages of the sales process. Induced by the pandemic, this consumer resettlement marked an inflection point for global sellers, catapulting digital commerce into a role of critical importance. Along with the $7 trillion value of digital selling, sellers can reap other B2B ecommerce benefits.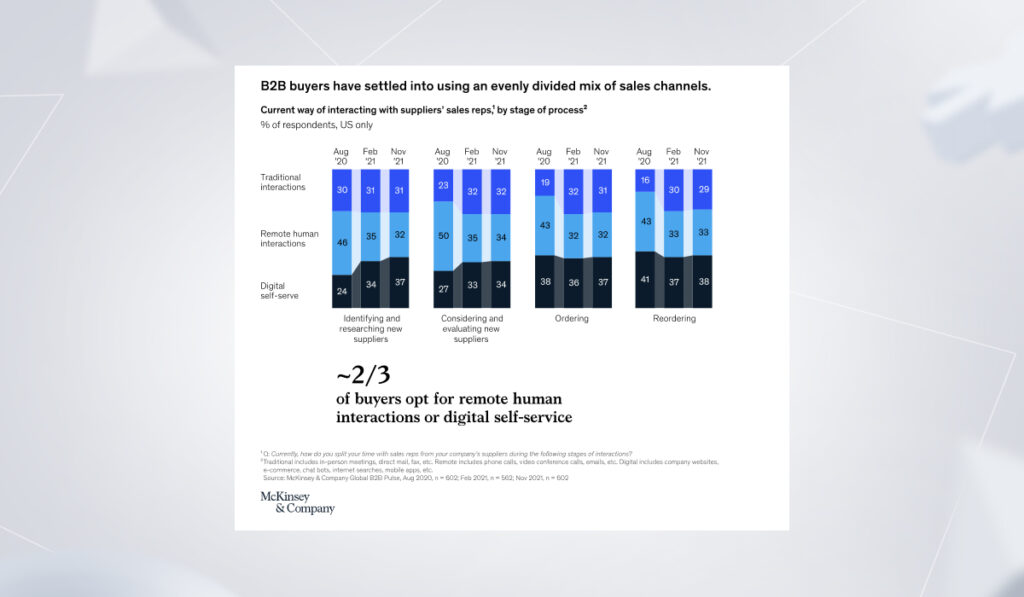 1. Making your mark
If you're not online, you don't exist — the harsh truth of the 21st century that can be easily transformed into leverage. So the first obvious benefit of B2B ecommerce is the opportunity to put your brand out there.
Setting up your business online increases your brand's visibility, expands your horizons, and lets you claim a market niche ahead of your offline competitors. Online visibility, in turn, translates into new visitors that might otherwise go past your brick-and-mortar store.
2. Maximizing sales to their fullest potential
First and foremost, digital presence allows you to reach new customers, automatically boosting your market prospects. The potential for greater share gains can be maximized by the adoption of AI-enabled modules that serve personalized content and offers to your leads. In this case, you can target the customers most likely to purchase your goods or services — the advantage unobtainable for offline sales.
Moreover, B2B ecommerce advantages include always-on access to your digital storefront, making your e-platform a 24-hours-a-day sales team.
3. Increasing the order value and volume
One in five B2B decision-makers is now ready to spend $500,000 to $5 million on a single interaction on remote or self-service channels. An order value this high became easily attainable due to a bundle of engagement mechanisms online selling platforms offers.
The meaningful shopping experience, automated ordering process, and self-service capabilities clear the way for buying a larger volume of products at once. Supported by enhanced upselling and cross-selling, an ecommerce platform can spiral your sales volume to unprecedented heights.
4. Meeting customers' ever-growing demand
Easy scalability is among core, game-changing B2B ecommerce features that promote seamless growth of your business. Unlike offline points of sale, an online platform can accommodate the evolving needs of your business, including seasonality, budget cycles, or new service lines.
Or better, a built-in analytics engine allows you to predict your scale-ups and rise to the challenge with no stockouts or staff shortages.
5. Reaching new markets
An online sales portal sets your business up to go global and reach fast-growing markets. Although cross-border commerce still implies legal hassle, it's easier to enter overseas markets without having to set up a physical presence there.
An integrated payment gateway makes it a breeze to accept multiple currencies, while modern global delivery solutions help you reach your customers faster and easier.
6. Making calibrated sales and marketing decisions
Thanks to data centricity gained through the possibility of various integrations, your online store can magnify your marketing efforts and drive improved sales engagement. You can cast your nets as wide as social media, ad platforms, devices, and more to map an accurate customer journey and establish a customer 360° view.
Paired with advanced analytics, this trove of information translates into a wheel of data — a necessary prerequisite for winning customer experience and higher conversions.
7. Cutting down operational costs
Cost efficiency is among other transformative B2B ecommerce advantages. An ecommerce store can help you save money on inventory, slash transactional costs, and reduce other operational expenses while increasing your profit margins.
An ecommerce platform also adds automation to your entire fulfillment process, optimizing supply chain management and distribution. You don't have to stock hard-to-find parts in the showroom, all orders can be shipped from the warehouse straight to the end consumer.
8. Streamlining business operations for maximum efficiency
Facilitated day-to-day business processes and better decision-making are among the other benefits of B2B integration. With enterprise software baked into your store, you can automate many of the time drains associated with accounting, inventory management, shipping, and reporting.
In addition, the joined forces of marketing automation and CRM tools further improve the profitability of your venture and allow you to reel in and nurture qualified leads at scale. Product recommendations, retargeting, and personalized content can make your existing customers splurge on complimentary products — all that without manual effort.
9. Growing customer loyalty
Today, B2B buyers keep their expectation bar high, which behooves the sellers to achieve CX excellence across all sales channels.
Real-time customer service, always-on product availability, consistent experience, and omnichannel purchasing are crucial loyalty drivers for over 80% of B2B clients. And nothing better than a sustained online presence can help you deliver on those requirements.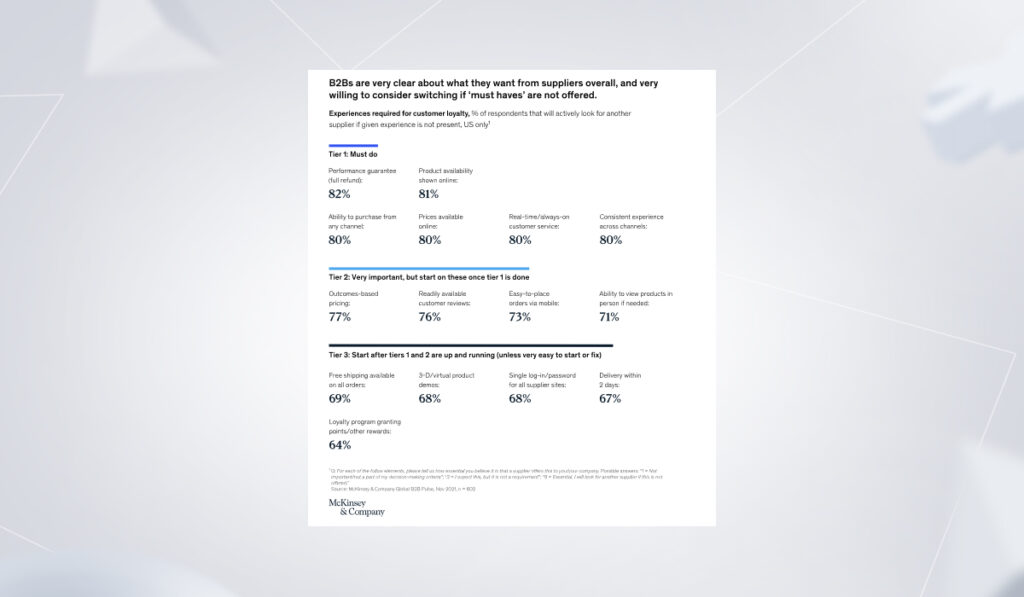 10. Personalizing your offers
Granular personalization is a significant benefit of B2B commerce that both reduces your customer acquisition costs and boosts your profits. Based on the collected customer data, your sales team can tailor advertising, offers, and communication efforts to fit the needs of each B2B customer.
Also, by embedding automation and personalization software into your store, you can dynamically show content based on individual visitor demographics, interests, history, and other unique parameters.
11. Strengthening offline sales efforts
To get the benefits of B2B ecommerce, you don't have to commit to an online sales model only. You can use an online selling platform as an intermediary or supplementary channel for your offline business. Unlike your physical point of sale, a digital store can offer comprehensive information about your services and products at all times.
Supported by self-service functions, this purchasing autonomy saves time and effort for your new-gen, busy B2B buyers. Also, by balancing online and offline interactions, you make inroads into the hybrid selling model that drives up to 50% more revenue.
12. Removing friction both from buyers and sellers
Although B2B ecommerce benefits have always been skewed toward the buyer side, digital transformation also oils the wheel for your B2B sales representatives. Along with more informed selling, nurtured leads, and efficient service delivery, the digital model brings win-win automation to the table.
While your sales team has an easier time managing their day-to-day minutiae, customers can self-serve and call the shots on their interactions with vendors.
Let's shape your B2B ecommerce future together
Still on the fence? These myths of B2B ecommerce might be to blame
Although the digitally-enabled mode of selling has rapidly made inroads since the pandemic, there is still some prejudice about it in the B2B world. Deemed the realm of digital natives, business-to-business trading remains uncharted territory for conventional sellers. But that stigma is about to shatter.
Ecommerce isn't a viable match for the B2B product and service lineup
Not every seller can imagine themselves getting a slice of that ecommerce pie. Complicated products might make the benefits of an ecommerce website feel like a far-off dream. The complexity stems from a typically wide product range in B2B that can include both simple consumable products and highly configured items.
But the complexity of products or services is exactly what makes digital so convenient for corporate sellers. Advanced product attributes, specs, warranty information, and other product data are easily communicated and served through a digital-first channel.
And if the nature of your assets does make opportunities in B2B distribution impossible, this is typically not true for your full portfolio. You can think about offering complimentary products and support services via digital channels.
Ecommerce is ill-suited for the intricate B2B pricing and contracting model
Business-to-business suppliers have multi-tiered buyer-seller agreements. Company-level contracts, volume pricing, bulk buys, geographical factors, and government-preferred supplier arrangements demand the medley of B2B ecommerce pricing strategies.
Thanks to account-based personalization, the majority of ecommerce solutions allow you to construct an accurate algorithm that covers all those price variables. When your B2B customers log into the portal, they can see all buyer-specific pricing based on the negotiations, buying volume, and other factors. This makes even the most intricate buyer cycles easier to manage.
B2B customers cannot do without assistance to complete a purchase
Long gone are the days when corporate buyers preferred the sales representative to take the lead. The new breed of B2B buyers are flocking to digital channels that make ordering as simple, fast, and straightforward as possible.
In fact, virtually 100% of buyers want a self-serve part to be a must-have for their customer experience. And that independence doesn't jeopardize your sales process. McKinsey & Company shares that 71% of buyers are ready to place an order worth more than $50,000, with 27% ready to spend over $500,000, in a self-service model.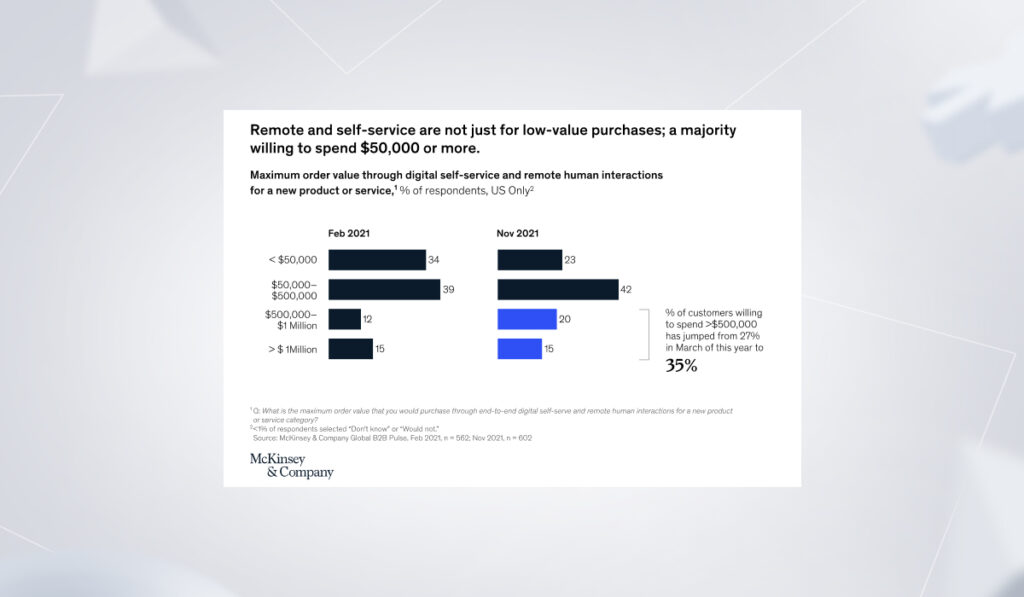 Most B2B companies get by without an ecommerce platform
B2B might take it longer to reset than B2C, but don't let this curve shadow the importance of digital ordering. Almost 65% of B2B companies across domains offered ecommerce capabilities in 2022, a 53 percent growth from 2021. In fact, the ecommerce channel now beats in-person selling as the preferred way of handling the business.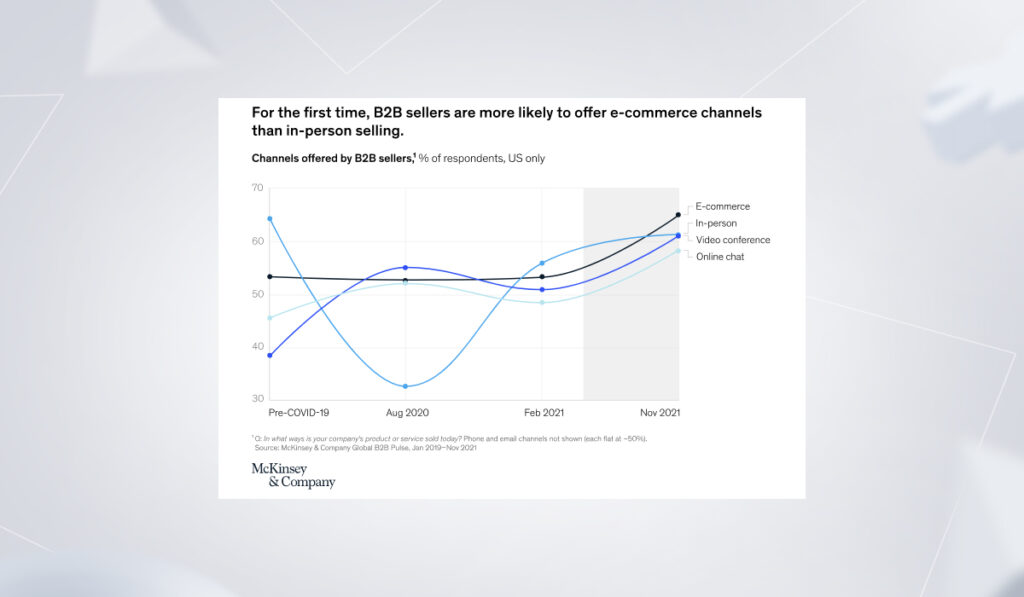 To further solidify this point, it's worth mentioning that the annual US B2B ecommerce sales soared to nearly $2 trillion. So if you're not here, you cannot catch up to that value.
In-person interactions reign supreme for B2B buyers
There are still many traditional B2B buyers that would prefer picking up the phone and placing an order directly with a sales rep. However, two-thirds of corporate customers intentionally opt for digital engagement. It means that your in-person follow-up or a call might stay in the way of high-ticket purchases.
A basic ecommerce solution is enough for your B2B needs
While you might think that B2B ecommerce has stepped onto the scene only a few years ago, the majority of B2B companies have already made it their full-service channel. Over 80% of merchants say they keep their ecommerce experience at the same or a higher level compared to other channels.
So, to fully embrace the benefits of an ecommerce website, you require a head-on approach to your build-out — bundling service, product, and experience excellence.
Find your way to online B2B sales or get sidelined
With an estimated third of sales in question, e-commerce is a mainstay for successful B2B sellers. However, the ascent of digital selling won't send in-person interaction into oblivion. Instead, a mix of selling channels will enable broader, deeper customer engagement and unlock unmatched market opportunities for the B2B sector.
To tap into that double value of hybrid selling, you need a future-proof B2B ecommerce platform that grows in step with your business. We, at *instinctools, help global B2B sellers adjust to the new market dynamics and cultivate tech capabilities that make ecommerce simple and profitable.
Ready to grab the benefits of B2B ecommerce?
FAQ:
Why is B2B ecommerce so attractive?
Business-to-business ecommerce offers a number of benefits over traditional brick-and-mortar businesses, including 24/7 operation, global reach, and lower overhead costs. Not to mention, B2B ecommerce is more convenient for both buyers and sellers.

Among other benefits of ecommerce websites are their ability to deliver self-service options, excellent customer experience, and tailored pricing options.
What are the four stages of ecommerce development?
B2B ecommerce development typically includes the following stages:
– Discovery — business analysis, requirements identification, planning, and strategizing.
– Design — system architecture, wireframing, prototyping, design of branded visuals.
– Development — front- and back-end development, integrations, API development, testing.
– Delivery and maintenance — solution deployment, ongoing maintenance, feature updates, and support.
How do I create a B2B ecommerce?
As B2B solutions tend to be more complex compared with B2C, companies usually opt for custom solutions designed with their business needs in mind. To build a bespoke platform, you need to contact an experienced B2B ecommerce development company. Your vendor will analyze your requirements and suggest an optimal solution for your needs.
What is B2B ecommerce with an example?
It is the process of selling products and services between two businesses through a digital platform. Its key feature is that it enables corporate buyers to buy items or order services at scale.

Some platforms, such as Alibaba.com, focus on connecting buyers and suppliers from around the world. Others, such as Amazon Business, focus on providing businesses with a one-stop shop for all their procurement needs.
What are the key capabilities of B2B integration?
In B2B ecommerce, integration refers to a process whereby your ecommerce platform seamlessly exchanges data with other parts of your digital infrastructure. Typically, an ecommerce platform is integrated with inventory, sales, marketing, and accounting software. The key capabilities of such integration depend on the solution your ecommerce platform interfaces with.