We learn as we go, – says Gunthilde Sohn, who has been running *instinctools GmbH as Managing Director for more than 20 years.
What first might seem like a casual remark has been the motto of *instinctools, since its inception, and, no matter how clichéd it may sound, the key to success. The pandemic uncertain times distinctly exhibited that it was the right credo to stick to – only the most flexible and never-resting-on-their-laurels companies have kept afloat.
This story is about the power of moments, of people, and, yes, the power of everlasting self-improvement.
Instinctive tools: how it all started
In 2021 *instinctools turned 21 years old. During this time, the company has transformed from a product start-up to an organization that provides consulting services, product development, and full-fledged project teams.
21 years is a really impressive timeframe. But it does not feel that long because we all have experienced lots of dynamics and changes – there was no room for boredom. *instinctools started on the cusp of the new millennium both in Belarus and in Germany. The plan was to develop the content management system as our own software product.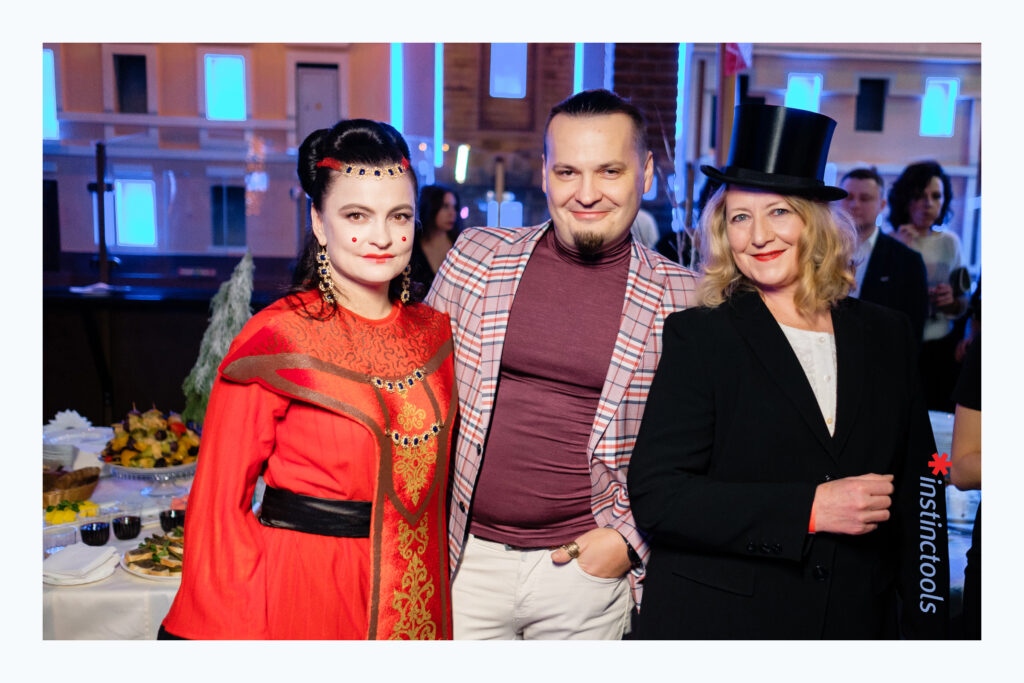 The GENE CMS was developed in a very short time and once it was launched the journey of 20 years of software development and company growth started. Further developments and derivatives of the product have served as the basis for dealer networks, association solutions, for later development of a website builder Saitodrom and DITAworks, a component CMS for the editing of structured content.
Certainly, the two decades were full of meaningful moments.
Certainly, gaining the first enterprise client was a real milestone. Sealing this first deal with one of the biggest automobile companies in Germany helped us keep the lights on and encouraged further development.

Another memorable event was the first trip to California with Alexey Spas where we presented our DITAWorks software at the conference. By the way, later we convinced SAP to use it for the learning and training division.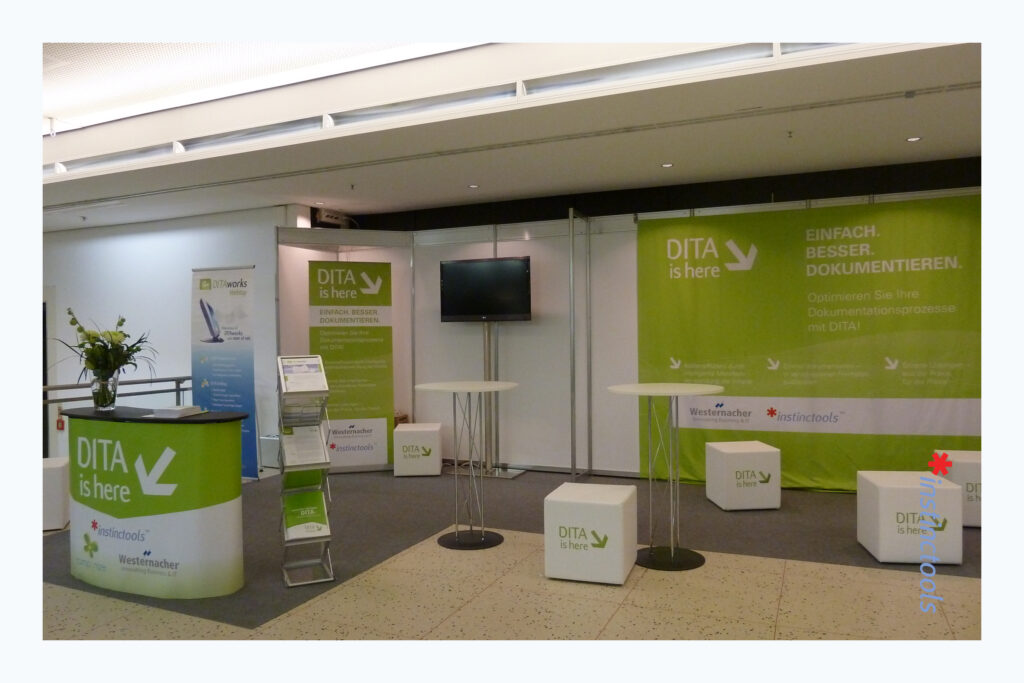 Probably, the most unforgettable moment of the recent years was signing our first client that perfectly matched our new strategic criteria. It absolutely proved not only our profound technical knowledge and extensive experience but also the high-ranking consulting capabilities and outstanding engagement of our team. That was a great experience.

And surely I'll always remember joyous time spent in Belarus, whether it was camping on the river Neman, or being invited to the legendary *instinctools New Year parties in Grodno.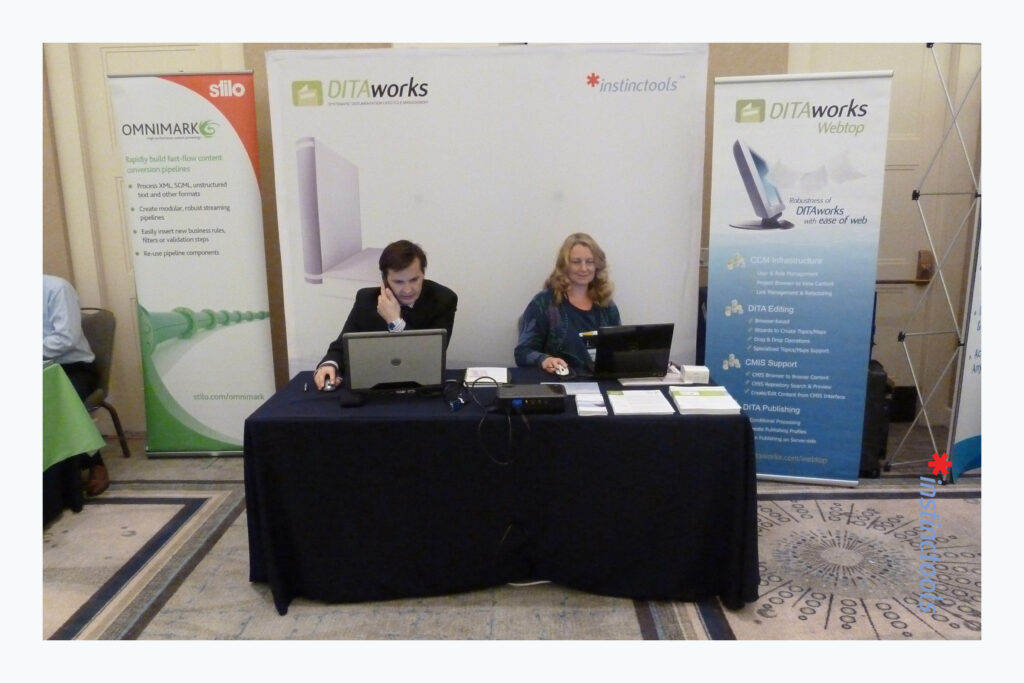 Looking back at *instinctools most remarkable moments, it becomes clear that almost all of them are inextricably intertwined with team efforts and common accomplishments.
What I'm especially proud of is that I was able to help gain our US key accounts and maintain long-term relationships with them. At the very early stage of my career, I was working for one of the largest and best-organized corporations in the world. That experience shaped my understanding of large customers' concerns.

It's not easy for a comparatively small company like ours to meet the specific requirements and expectations of large global enterprises. But we did it – together with the team.
The company is only as great as the people who manifest its mission, go above and beyond to make the organization succeed, and believe that success is just around the corner. *instinctools has been lucky to have these people from the very beginning.
I remember the start-up team very well: our current CEO Alexej Spas, Vitaly Schiglinski (VP of Business Development), Yury Baranowski (CTO), Alexey Astakhov (VP of Engineering) Tatyana Klapatsiuk (CFO), Dzmitry Nikitsin, Aleksej Morskoj, and many other people who are still working for the company. From the German side, it was my brother Diethard, who brought the initial clients from his network. Later on, he decided to focus on his art career and left the company.
By the way, it was Diethard who came up with the name for the company. *instinctools is a short form of instinctive tools. Our desire was to develop software that could be operated intuitively – instinctively – by its users.
Thus, people united by common ideas and goals built *instinctools – the company that puts the efforts and resources together to reach new markets and provide instinctive tools that help businesses achieve their goals too.
"Challenges are meant to be met and overcome"
Since 2017, the company has been experiencing rapid growth. New offices in Minsk, Moscow, and Warsaw sprang up. Although such growth was a natural result of consistent development, it didn't happen at the drop of the hat. The path to success was barely covered with rose petals – each worthwhile achievement once started with a challenge.
Lack of funding
At the beginning of its journey as a product company, *instinctools was short on budget. It made the company shift the focus from a proper development and improvement of their product in general to never-ending adaptation to each client's specific needs.
We had some start-up capital but it wasn't even sufficient for the development itself, not to mention marketing and sales. Because of heavy financial dependency on our first clients, we developed a product that was not generic enough to serve as a base for a large market segment and couldn't be efficiently rolled out.

I saw it as a big challenge in the first years. Today we would launch such a new product in a much different way. First, testing market needs, building an MVP, attracting investors and clients who are flexible enough to join into more professional product development. We learn as we go.
Distributed organization and remote work (before #remotework became a trend)
Because of the Covid-19 pandemic, remote work has become a new normal and there's a long shot that anything can change it. Yet, back at the beginning of the 21st century working outside of the office was quite a challenge especially in terms of international teams' collaboration and clients' trust in such an approach. But not for *instinctools at that time.
I had been working with distributed teams for many years at my former job and, luckily, knew what to expect. Moreover, we had a great advantage to have our current CEO, Alexej Spas, onsite in Germany for several years. This helped to mutually understand and manage the remote situation.
Exponential company growth and internal processes
A company's rapid expansion inevitably brings about certain organizational transformations in resources, processes, management, and corporate culture. No doubt, dealing with these changes might be overwhelming.
While your company has been moving forward with baby steps, it's not that difficult for the team to be on the same page. But if you have this kind of exponential growth as we've had since 2017, it becomes a real challenge of staying organized by building and implementing processes that everyone will be adhering to and bring a company onto a level that it is managed according to international business standards.
Changing the focus and company strategy
Apart from a number of various challenges that *instinctools has faced, there's one – connected with the company changing its focus – that particularly stands out.
At the moment we are dealing with a major transition from an outsourcing company to a full-service provider of digitalization including consulting so as to cover the entire service chain for customer projects. This implies a lot of changes for all areas of our company and all employees. We are aware of some tension and stress that might come along, yet the changeover is vital for the company to thrive in the fast-paced world.
Speaking of changes, corporate culture might be a considerable barrier to a company's transformation as well as a significant inspirer of it.
I do believe we could build a culture that creates positive vibes. We have been promoting transparency of work processes and the direction in which the company moves in, accessibility of the company's leaders, and ongoing professional development for all the members of the team. I appreciate this culture of growth and usefulness because this is a good base for future changes and transitions.

Moreover, cultural differences between Germans and Belarusians, which once were thought to be Achilles' heel, turned into a great advantage. There are top-notch talented engineers on the Belarusian side and high-level proactive German specialists who bring the value of our services to the surface. Diversity of skills and approaches bolsters our expertise and ensures that the best possible solution will be delivered to the customer.
There's no single recipe for success, but there's a piece of advice from lessons learnt
Just like there's no one-size-fits-all solution that all our clients can equally benefit from, there's no single recipe for success. However, insights on how to succeed in the tech industry articulated by the person, who's been contributing to the company's prosperity for 20+ years, are definitely worth taking note of.
It's always a good idea to have a solid education in the tech area like in STEM subjects (science, technology, engineering, and mathematics). As for me, I have a degree in mathematics, economics, and IT.
At the same time, the educational process should not be limited to getting diplomas. Only continuous self-study and the constant hunt for the best approaches to work can ensure that you won't get stuck in a rut.
Develop personal strengths and self-discipline
There are so many ways you can do this. It can be something completely unrelated to your profession. In my case, it was sport and ballet. Both these activities, apart from building a strong body, develop willpower, boldness, and self-discipline – must-have qualities for business people.
The tech industry is largely globalized, therefore it's important to understand the cultures and practices of different countries. Broaden your horizons by working in international teams. From the very beginning of my career, I was working on international projects and had to travel a lot. I think this bird's-eye view helped me to see the things I wouldn't have noticed otherwise.
I reached an important milestone in my career when I took my first management position that was rejected by several men. They considered it too risky. If you get such a chance, take it. Leave your comfort zone. It's normal to be nervous and scared that you might not make it, but start doing it and it will work.
Success is not only derived from hard work and professional skills but also, to a large extent, from networking and self-marketing. Ask people in your professional environment to support you, look for a mentor or coach, and become visible by marketing your own success.
Failure is an inherent part of eventual success. So acknowledge the failure, learn from it, and pick yourself back up. There's only one way to achieve the goal – never lose faith in yourself and never stop trying.