When working with other companies in the digital landscape, it's important to set up the roles each member plays and establish your proficiency in those roles. People come to us because we're experts in digital transformation and they can entirely count on us in accomplishing their technological goals.
Most of our blog topics address online optimization from cloud computing to software development. Anyway, not only are we good at covering these topics but, as our latest projects proved yet again, we can bring knowledge to life.
The first project was a full-on software development job for an outsourcing company using Java. They wanted an in-house platform to handle their operations to save money. On our second project, the team had to support a nonprofit organization's in-house team so they could launch their website on time.
Both companies depended on our team to varying degrees. Either way, it was important on our end to determine what we can do and make sure that our partners know it.
Apparently, we succeeded in meeting their needs as one of these partners left a five-star Clutch review for us, highlighting our contributions to their goal, our communication in particular.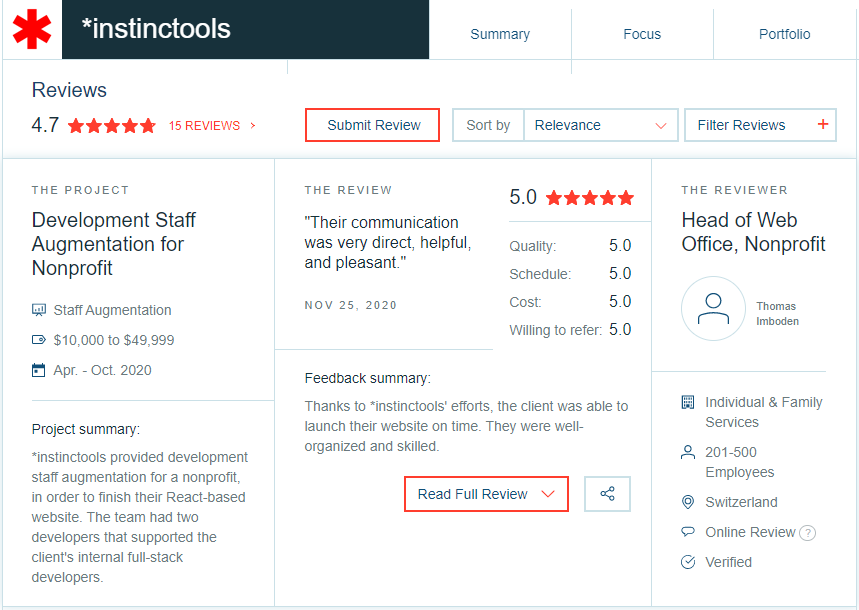 This review has allowed us to get one of the top spots on The Manifest, a business data aggregator that helps businesses to look through leading companies and select the partner that fits their requirements the most.
We'd like to thank our partners for the trust they put in us when selecting our team for projects like this, and taking the time to write a review about their experience.
We do our best work for and thanks to the people who believe in our team and we'll always strive to make our partners feel confident about relying on us.
With each subsequent project, more and more people are getting convinced in our team's ability to transform their business into the one that will fit the digital world. It's time your company did the same. Use our contact form to get in touch with us and set an appointment.
Follow your instinct and partner with *instinctools!