Full-cycle software development includes a number of stages critical to creating a viable system. The development journey starts with the planning or ideation phase, followed by designing a prototype, building an application, testing, deployment, and maintenance. The software development life cycle involves various models and advanced practices that facilitate the delivery process and speed up time to market. Tailored, business-focused, and agile software development is in high demand these days.
GoodFirms, a leading IT Research and Review Platform, has recognized *instinctools for its superior services and unmatched skills and placed the company among the top firms in the Leaders Matrix program in two distinctive categories. These include "Top Firm for Java Development" and "Xamarin Application Development".

With headquarters in Stuttgart, Germany, *instinctools also has offices in the US and Poland. The company provides a wide range of services, such as Software Development, Web Development, Business Intelligence and Data Visualization, Cloud Computing and DevOps, Mobile App Development, Crypto Exchange Development, and more.
For the year 2022, GoodFirms named *instinctools as the "Best company to work with"
If you are looking for top software development companies to collaborate with, *instinctools is the right choice. With vast industry expertise of over two decades, the company has successfully digitized and transformed business operations of manifold clients. Instinctools focuses on maximizing the benefits of digital transformation using best-in-class products and cloud-powered solutions. For all these commendable achievements, GoodFirms has identified *instinctools as one of the "Best companies to work with" in 2022.
Instinctools – Vision, Strength & Scope
As a frontline tech consulting company and leading software development firm, *instinctools aims to optimize processes across a broad range of industries by building custom mobile and software applications with a significant focus on integration activities. Instinctools has a strong team of experienced and talented developers providing comprehensive support to take your business to the next level.
I believe that the team has greater potential than an individual. Team creates synergy that leads to new and improved insights. You may feel like getting stuck in a swamp, but eventually everything will fall in place.

— Alexey Spas, CEO, *instinctools
With transparent and flexible engagement models, such as IT staff augmentation, dedicated teams, and an offshore development center, *instinctools delivers beyond its clients' expectations.
The company has experience in working on versatile projects, including creating BI Software for a vending machine provider, a mobile application for electric vehicle (EV) charging, an ERP platform for a media and telecommunications company, and many more.
We have been a trusted technology guiding partner for a plethora of businesses since 2000, helping our clients bring the vision of their digital projects to life. Our skilled team can efficiently tackle complex challenges using innovative technologies.

— Alexey Spas, CEO, *instinctools
Here's how customers reviewed *instinctools: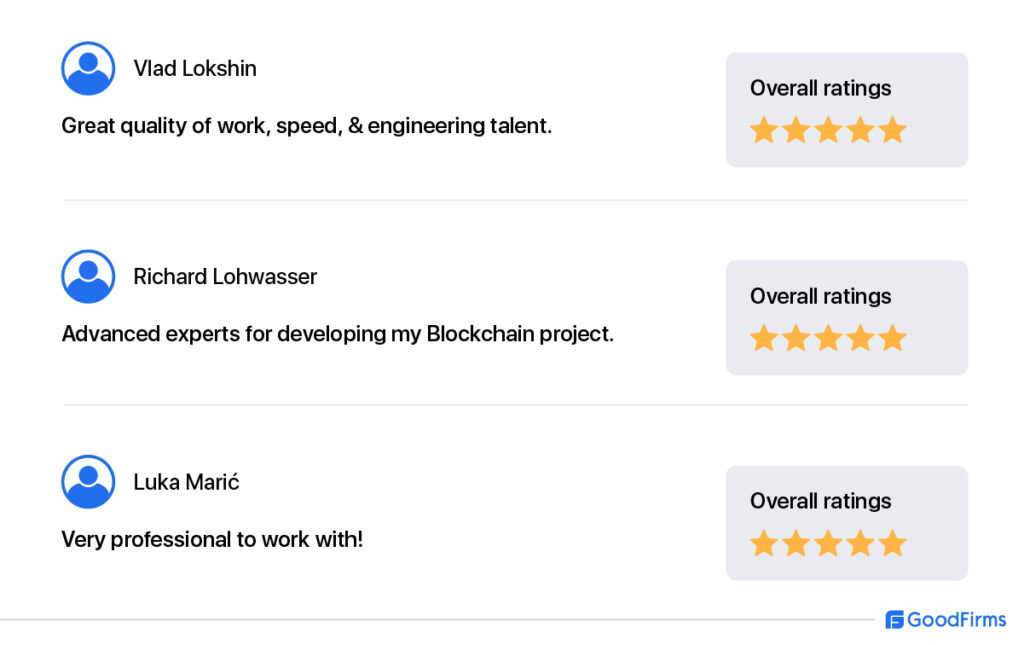 GoodFirms firmly believes that *instinctools has all the potential to accomplish new milestones in software development and keep enhancing its clients' businesses by taking over digital transformation initiatives. This is the reason why *instinctools tops the list of the GoodFirms Leaders Matrix report in two separate categories, a special feat achieved by only a few IT companies.

— GoodFirms
Instinctools is trusted by renowned global companies and non-profit organizations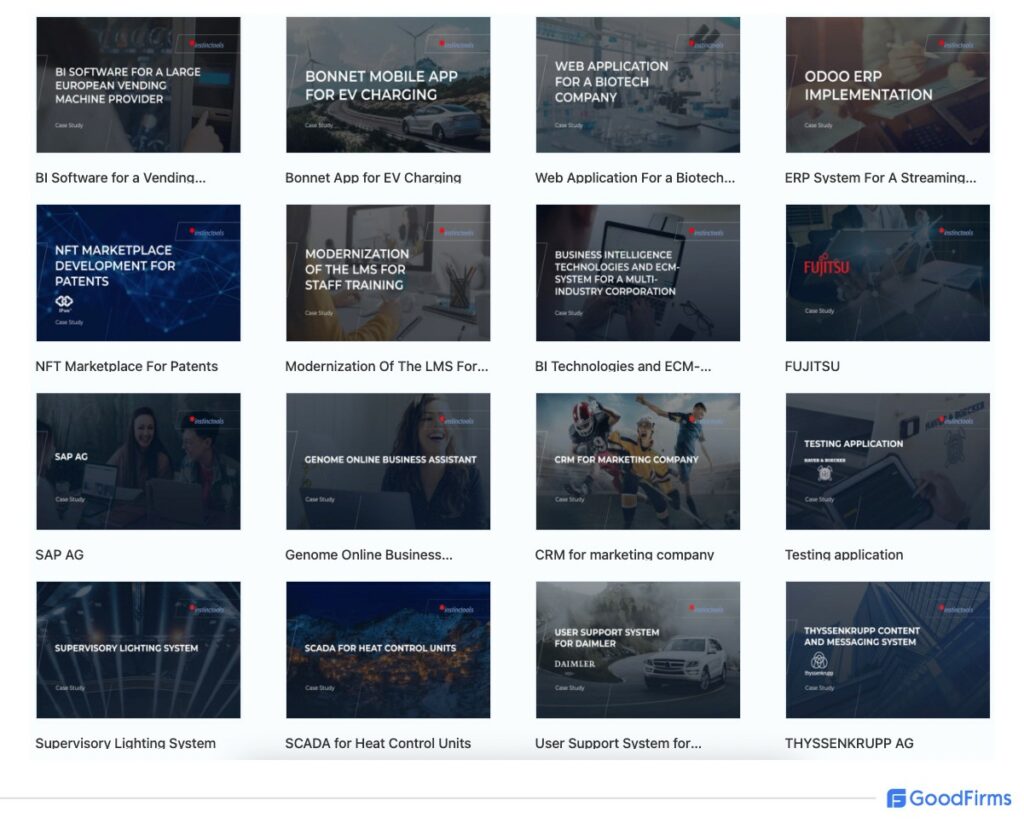 About GoodFirms
GoodFirms is a B2B research, review, and listing platform helping businesses accelerate their digital journey and maximize modern technology's value. The company connects service providers with service seekers through a comprehensive and thoroughly researched fact-based list of the best services and solutions. Recognized as the most reliable source for the B2B market, GoodFirms has world-class experience with partners across the globe.